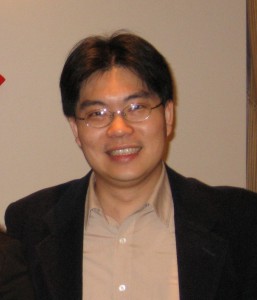 e-mail(電子郵件):sodiohsu@kmu.edu.tw
Address(通訊地址):
Depratement of Medicinal and Applied Chemistry, Kaohsiung Medical University                  100, Shih-Chuan 1st Road, Kaohsiung, 807 Taiwan.
高雄市三民區十全一路100號  高雄醫學大學醫藥暨應用化學系

Telephone(電話):   Office: (886) 7-3121101 Ext. 6984    Fax: (886) 7-3125339
Research Interests(研究興趣):
Sodio Lab offers several international Master or PhD student positions dedicated to the study of bio-inspired and metallo-supramolecular chemistry.
Bio-mimicing and structural study of bio-inspired coordination complexes.
Metallo-supramolecular chemistry and their molecular recognition in nano-scale.
Catalytic behavior and structural study of organometallics complexes.
含金屬蛋白質活性中心、模型化合物、構造及其生化擬態研究

奈米級含金屬異氰基化物的超分子化學及其分子辨識

有機

過渡

金屬化學結構及催化性質研究
Experiences(經歷):
8/2013 – present      Kaohsiung Medical University, Professor
8/2009 – 7/2013      Kaohsiung Medical University, Associate Professor
8/2002 – 7/2009     Kaohsiung Medical University, Assistant Professor
8/2000 – 7/2002     University of Illinois at Urbana-Champaign, Postdoctoral Fellow
4/2000 – 7/2000     Institute of Chemistry, Academia Sinica, Postdoctoral Fellow

8/2013

–

迄今

          

高雄醫學大學

醫藥暨應用化學系教授

8/2009

–

7/2013

    

高雄醫學大學

醫藥暨應用化學系副教授

8/2002

– 7/2009    

高雄醫學大學

醫藥暨應用化學系助理教授

8/2000

– 7/2002    

伊利諾大學香檳校區博士後研究員

4/2000

– 7/2000    

中央研究院

博士後研究員
Education(教育):
Ph. D., Chemistry, June 1998, National Sun Yat-Sen University
M. S., Chemistry, July 1994, National Sun Yat-Sen University
B. S. Chemistry, June 1992, Tamkang University
國立中山大學化學研究所博士

(1998)

國立中山大學化學研究所碩士

(1994)

淡江大學化學系理學士

(1992)